MAKEUP ARTISTRY
COURSE DETAIL
Do you know who is the real star that makes superstars and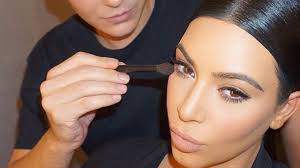 supermodels shine through? It is indeed the makeup artist that can brighten up a dull face, add fantasy to a regular face, and can attract compliments from all corners for his/her clients. If the backstage world of makeup and fashion is your calling or you are a makeup artist who wants to take his career one notch up then an Advanced Diploma in Pro-Makeup Artistry at INTERNATIONAL BEAUTY AND WELLNESS Institute is what you need to realize your dream. The demand of professional makeup artists is constantly high in urban areas as well as suburbs as men and women are highly conscious of the way they look. On the other hand, opportunities are plenty for professional makeup artists in the film industry and fashion runways.
The one-month course of Diploma in Pro-Makeup Artistry begins with theory of makeup in which you will learn about various makeup tools, cosmetic products, color wheel and how light effects impact makeup. You'll gain expertise in creating a flawless base by using concealer, neutralizer, and buffing and polishing.
By the end of this fabulous professional makeup course, you'll master the art of face sculpting as the Diploma in Pro-Makeup Artistry covers face structure/face shapes and contouring, eye shapes and contouring with eye shadows, nose shapes and nose contouring, brow shaping according to face shape as well as managing facial hair to create diva-like looks.
You will learn more than 11 types of makeup looks including:
1. Glamour and Bollywood Makeup
2. Catwalk Makeup
3. Makeup for Black and White Photography
4. Retro Makeup
5. Fashion Editorial Makeup
6. Camouflage Makeup to cover Pigmentation/Blemishes, Scars, Vitiligo, Tattoo
7. Bridal Makeup Indian Traditional and Catholic Bride
8. Metallic Makeup
9. Yellow Makeup
10. Khaliji Makeup (Silicon Base)
11. Airbrush Makeup
The Diploma in Pro-Makeup Artistry at INTERNATIONAL BEAUTY AND WELLNESS INSTITUTE requires your one-month of dedication to ace the skills that make you a professional makeup artist.
PROFESSIONAL MAKEUP
COURSE DETAIL
Are you fascinated with the backstage drama at fashion weeks or
you aspire to work as a professional makeup artist? A two-month Diploma in Professional Makeup at Orane International School of Beauty and Wellness can open the doorways of the world of glitz and glam for you. This course makes you job ready as well as equips you with in-depth knowhow of trending makeup techniques and looks.
The Diploma in Professional Makeup begins with the basic understanding of makeup via self-makeup covering looks for day and evening, both. The course then progresses towards the art of makeup and professional makeup, where you will be introduced to color theory, foundation theory, neutralizers and color wheel. You will be working on the latest makeup tools, products and equipment and foster hands-on learning from industry-trained faculty in a state-of-the-art makeup studio. You will also be taught different face shapes to gain understanding of how different makeup looks suit different clients.
You will be made aware about the importance of hygiene and sanitation in the everyday working schedule of a makeup artist.
Upon completion of the Diploma in Professional Makeup, you'll be a master of 14 latest trends in the makeup arena:
1. Corrective Make-up (nose, eyes, lips)
2. Day Dew Natural look / glossy look
3. Day Party / Evening
4. Engagement / Shagun look
5. Reception look
6. Indian Ethnic Bridal look day/night and eye lash application
7. Groom makeup
8. 5 types of Eye makeups and eye lash application
9. Red Carpet look
10. Media Makeup look
11. Fantasy
12. Cut, burn, bleeding
13. Modern Bridal Look
14. Bronze Tan look
Get the Orane Beauty Institute edge in your professional career as a makeup artist in the booming beauty and wellness industry of India. Our trainees get 100% job assistance from our placement cell to land their dream job upon successfully acquiring the requisite skillset during Diploma in Professional Makeup.